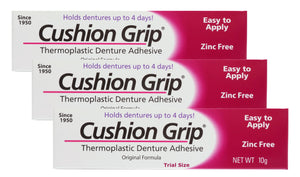 Cushion Grip Thermoplastic Denture Adhesive 10g Trial/Travel Tube (Pack of 3)
Sale price Price $14.98 Regular price
Get a Long-Lasting, Comfortable, Secure Hold for Up to 4 Days with a Single Application! 

 
Cushion Grip acts like a soft denture reliner that fills in all the gaps between your dentures and gums to add that extra needed tightness for those who need help keeping dentures in place.
It's a Dental Adhesive Designed to Secure Loose-Fitting Upper and Lower Dentures and Partials.

The 
10-gram

 tube is perfect for sampling or traveling.
It's Not Glue:  

It molds to your gums and acts as more of a suction than a glue, holding your dentures firmly in place with a water-tight seal.

Eliminates the Need for Daily Denture Cream:

 It does not wear off with daily cleaning and soaking, allowing it to

 last up to four times longer than the other brands.

Make Wearing Dentures Comfortable: 

The Cushioned Softness cushions your gum with long-lasting adhesion, preventing gum irritation and discomfort.

Zinc-Free Formula: It's safe for all plastic and porcelain denture plates and everyday use.

No Denture Slipping or Shifting: Thermoplastic material provides up to four days of comfortable slippage protection.

[zify-faq]