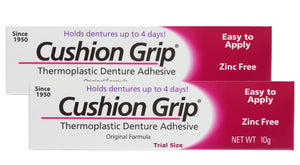 Cushion Grip Thermoplastic Denture Adhesive 10g Trial/Travel Tube (Pack of 2)
Sale price Price $10.98 Regular price
With Only One Application, You Can Have a Hold that Lasts for Up to 4 Days While Remaining Secure and Comfortable! 

By filling up all the spaces between your dentures and gums, Cushion Grip functions as a temporary soft denture reline to ensure the best fit.
This Dental Adhesive is Intended to Hold your Loose Upper and Lower Dentures and Partials in Place.

The 10-gram tube is perfect for sampling or traveling.
Get Rid of Glue Adhesive:

 

 

It forms to your gums and creates a natural suction that keeps the dentures in place and adjusts to the fit of your dentures enabling you to wear it comfortably.

Don't Have To Keep Reapplying After Eating or Even Soaking

: Because it is completely waterproof and provides strong suction, it does not fade with regular cleaning or after meals.

Cushion Your Gums From Uncomfortable Dentures: 

 It uses thermoplastic to provide a soft cushion for loose dentures to rest on.

Free of Flavors, Zinc, and Goop: It's safe for all plastic and porcelain denture plates. There's no taste. There's no messy goo you have to clean.

Easy to Apply and Remove:  It's like getting a new temporary liner repair to help your dentures fit better when you have receding gums. You can do it yourself at home without the help of a dentist. 

[zify-faq]