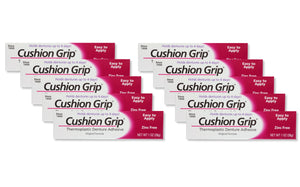 Cushion Grip Denture Adhesive 10-pack (1 oz. tube)
Sale price Price $77.94 Regular price $119.90
Plan on ordering frequently? Buy a year's worth of supply & 
Save 35%
!
As you may already be aware, Cushion Grip provides a precise fit and fills in any gaps between your gums and teeth, making it the perfect choice for securing upper and lower dentures as well as partial dentures.

Because it keeps its soft reline quality longer than other dental adhesives, using this adhesive will undoubtedly save you money over time!
No Need for Glue:  It adheres to your dentures and molds to the shape of your gums, creating the suction needed to keep your dentures in place without glue.

100% Waterproof:

 

It does not wear off with daily cleaning and soaking.

Like a Pillow for your Gums:

 

 It will cushion the hard denture against tender gums and it will help fill the voids in shrinking gums. No more food particles getting under your dentures and causing pain. And no more sore gums!

Hassle-Free.:

 

Its pliable nature prevents it from sticking and creating a mess.

Non-Toxic and Zinc-Free: 

All plastic and porcelain denture plates are secure with them.

[zify-faq]