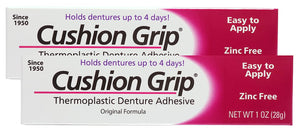 Cushion Grip Denture Adhesive 2-pack (1 oz.)
Sale price Price $19.99 Regular price $23.98
Get a Long-Lasting, Comfortable, Secure Hold for Up to 4 Days with a Single Application!

 
Cushion Grip acts like a temporary soft liner that fills in all the gaps between your dentures and gums to ensure that you get a more secure fit.
It's a Dental Adhesive that

 Adds a Soft Layer to your Dentures for Greater Comfort, Eliminating Loose Dentures and Sore Gums.
No Glue Necessary: It adheres to your dentures and molds to the shape of your gums, providing comfortable, long-lasting security without the need for glue.

No More Sore Gums:

 D

esigned to provide a cushioned fit between the denture and the gums, which can provide greater comfort and reduce gum irritation

 so you can wear your dentures pain-free.

Feel Secured: 

It holds your denture in place while relining them for a better fitting, and is s

uitable for partial, upper, or lower dentures.

No Need To Apply It Every Day:

 

It's completely waterproof and each application can last up to 4 days. Daily cleaning and overnight soaking do not remove it. 

Easy to Use and No Taste: 

It's a zinc-free, mess-free and non-toxic formula that offers you the stronghold without the ooze and goop.

[zify-faq]