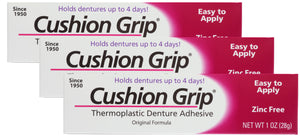 Cushion Grip Denture Adhesive 3-pack (1 oz.)
Sale price Price $26.98 Regular price $35.97
Get a Long-Lasting, Secure & Comfortable Hold for Up to 4 Days with a Single Application! 
To achieve the best possible fit, Cushion Grip fills in all the spaces between your dentures and gums like a soft denture reliner.
It is a Dental Adhesive Made to Hold Loose Upper and Lower Dentures and Partials in Position.

 

 
Secure Hold:  

It works similarly to a soft liner in that it molds to your gums to create suction, which can help prevent slipping and ensure the denture stays in place without the use of denture glue adhesive.

Long-Lasting:

 

Cleaning and soaking on a daily basis do not remove it since it's fully waterproof, 

which means you don't have to reapply it as often as other dental adhesives. 

Non-Toxic and Zinc-Free:

 

Any plastic or porcelain denture plate can be used without risk.

Great Stability:  

Keep your dentures from moving. No bulging while eating or speaking, which prevents food particles from seeping in and causing mouth sores or gum irritation and soreness. 

Experience Greater Comfort:

  

Thanks to the Cushioned Softness, it provides mouth cushioning from denture discomfort like mouth sores.

[zify-faq]