Cushion Grip Thermoplastic Dental Adhesive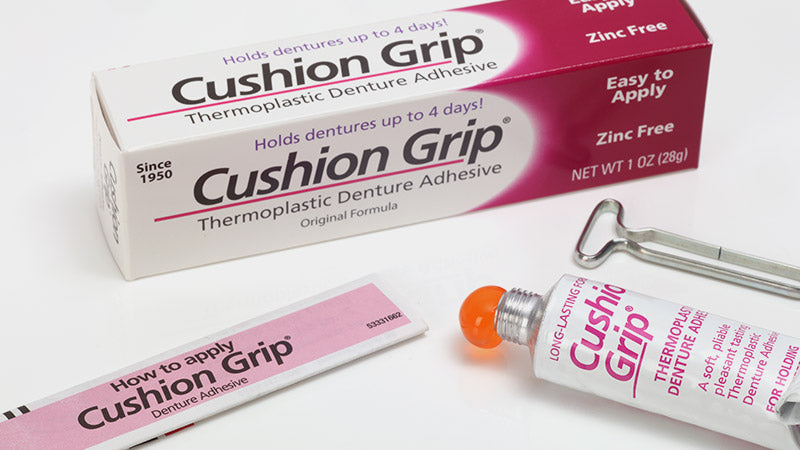 Available in 1 oz size.
Each application lasts up to 4 days.
Why Cushion Grip Thermoplastic Denture Adhesive?

You can be rest assured that Cushion Grip will guarantee you a confident secure smile while speaking or eating.
Professional Strength

Holds up to 4x longer than the leading brand competitors.
Daily cleaning, soaking and brushing

Does not impact secure cushioned fit for up to 4 days.
Thermoplastic Polymer Technology

100% Waterproof and heat activated formulation provides stronger hold.
Perfect Fit

Prevents denture shifting by providing a secure fit between your gums and dentures.
Cushioned Softness

Enhances comfort of dentures. Helps to eliminate mouth sores.
Safe for use on all plastic and porcelain plates.
Made in USA of US/imported ingredients.
Cushion Grip Sealing Power
How does Cushion Grip work?
Cushion Grip acts like both an adhesive and a soft reliner. It is not a "glue". Cushion Grip adheres to your dentures and molds to the shape of your gums. It creates the suction needed to keep your dentures in place without a glue. There is a learning curve in applying Cushion Grip in the right amount for your dentures, please call USpharma and ask for a Brand Ambassador who will be able to assist you if you are having trouble. The product is recommended to be used without additional adhesives or reliners with great results; however, some customers prefer to use Cushion Grip with other products for extra security.
Cushion Grip Comparison
Cushion Grip Thermoplastic Denture Adhesive Comparison To Ordinary Cream/Paste Dental Adhesives
| Cushion Grip | Other Leading Brands |
| --- | --- |
| Professional Strength. 4 Day Hold. | Lasts up to 8-12 hours. |
| Thermoplastic adhesive. No Mess Formula. | Creams/pastes ooze. Sticky and Messy. |
| 100% Waterproof assures strength. | Breaks apart with water. Loses hold. |
| Cushioned softness prevents mouth sores | Less protection for sore gums. |
| Does not wash off during routine cleaning. | Washes off. Requires daily application |
| Inhibits bacteria creating biofilm. | No prevention against biofilm. |
| Zinc Free. Non-Toxic. | Zinc may be toxic to patients. |